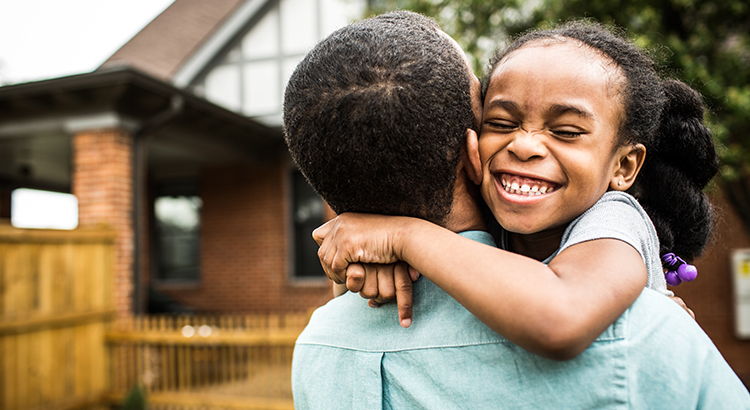 In today's sellers' market, many homeowners are weighing their options and trying to decide if they should sell their house. If you're in that group, you may be balancing things like the ongoing health crisis, rising mortgage rates, and your own changing needs to determine your best time to make a move.
However, recent data shows that time may already be here. According to the latest Home Purchase Sentiment Index (HPSI) by Fannie Mae, 76% of consumers believe now is a good time to sell.
Looking back over the past few years, its clear consumers are incredibly optimistic today. The graph below shows the percent of survey respondents who say it's a good time to sell a house, and their positive outlook is on the rise. The big dip near the middle of the chart indicates how consumer sentiment about selling dropped at the beginning of the pandemic as uncertainty about the health crisis and its impact grew. The good news is, the trend today shows a continued, drastic improvement, and people are feeling more and more confident with time about selling a home.
In fact, survey respondents think it's an even better time to sell a house today than they did in the lead-up to the health crisis. The latest survey results indicate we're at one of the strongest peaks in seller sentiment since March of 2019, hitting highs when 77% of people thought it was a good time to sell only twice before in June and October of 2021.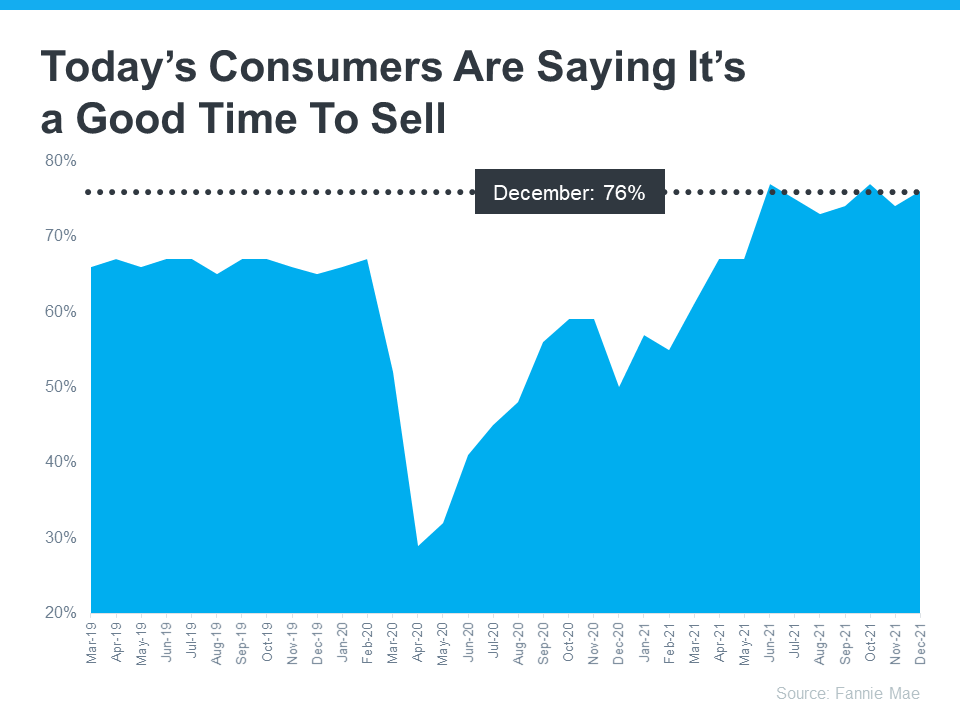 Why Are Consumers So Optimistic About Today's Housing Market?
From record-high equity gains to record-low housing supply and significant buyer demand, homeowners have more motivation than ever to sell. There are more buyers in today's market than there are homes for sale, and that's driving home prices up, making it a great time to sell your house.
According to the National Association of Realtors (NAR), the current supply of homes for sale today is at a 1.8-month supply, which is an all-time low. When the supply of homes for sale is low, sellers will likely see more offers, which is exactly what's happening right now. As NAR notes:
"The average home for sale is receiving 3.8 offers today, up from 3.3 offers just one year ago."
Bottom Line
With the inventory of houses for sale so low today pushing home prices in an upward direction, it's no wonder consumers think it's a good time to sell. If you're ready to take advantage of today's favorable sellers' market, let's connect today.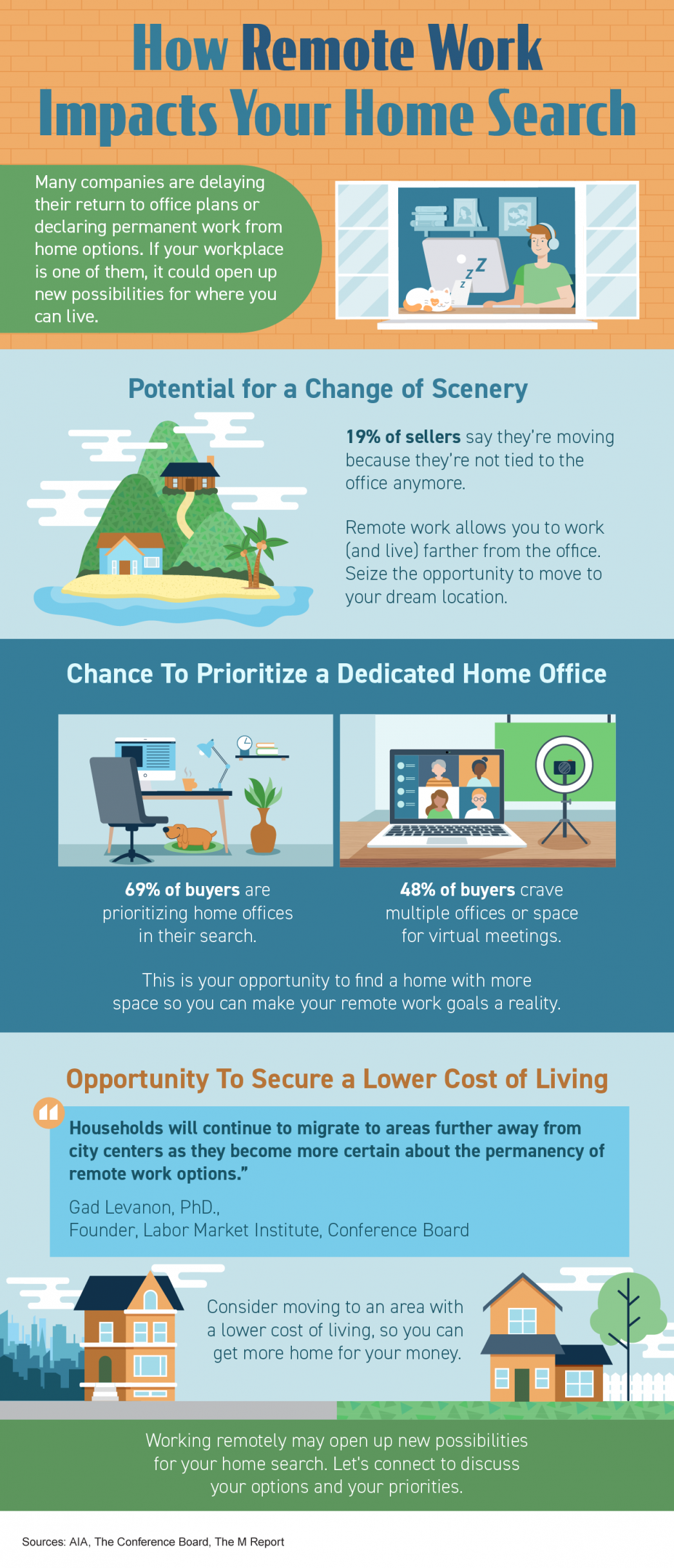 Some Highlights
If your workplace is delaying its return to office plans or is allowing permanent work from home options, that may open up new possibilities for your home search.
Ongoing remote work could give you the chance for a change in scenery, a move to an area with a lower cost of living, or finding a home with more home office space.
If you want to learn more about how remote work can give you more options, let's connect to discuss your situation and priorities for your home search.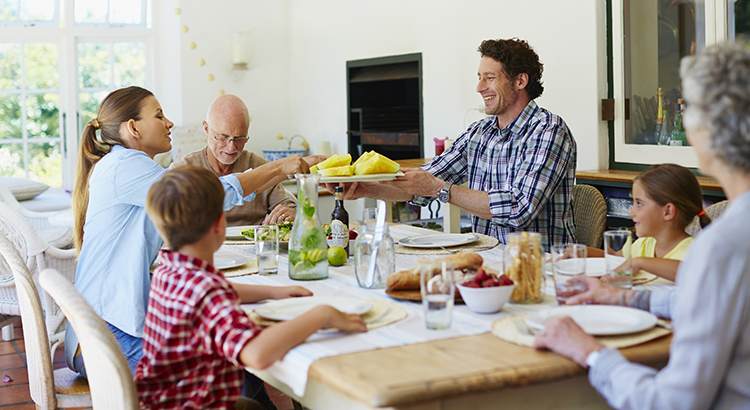 If your needs are changing, you may be thinking about sharing a home with additional loved ones, such as grandparents, adult children, or other extended family members. Whether it's for financial or health-related circumstances, or simply because you've reached a new phase of life, you might be wondering if living with multiple generations under the same roof is a good move for you. Many people have found themselves in a similar situation and they've already made the choice to live in a multigenerational home.
What Is a Multigenerational Home?
The Pew Research Center defines a multigenerational household as a home with two or more adult generations. They include households with grandparents and grandchildren under the age of 25. As you weigh your options and decide if multigenerational living is right for you, here's some helpful information highlighted by other homeowners living with additional loved ones.
The Benefits of Multigenerational Living
A recent report from Generations United surveyed individuals living in a multigenerational setting and asked them about the key benefits of this housing arrangement. It says:
"Nearly all Americans who live in a multigenerational household (98%) feel their household functions successfully, citing various aspects of home design, family relationships and interactions, and supports and services influencing their success."
The study identifies some of the top benefits of this lifestyle as an improved financial situation, better mental and physical health, strengthened bonds with loved ones, and more (see chart below):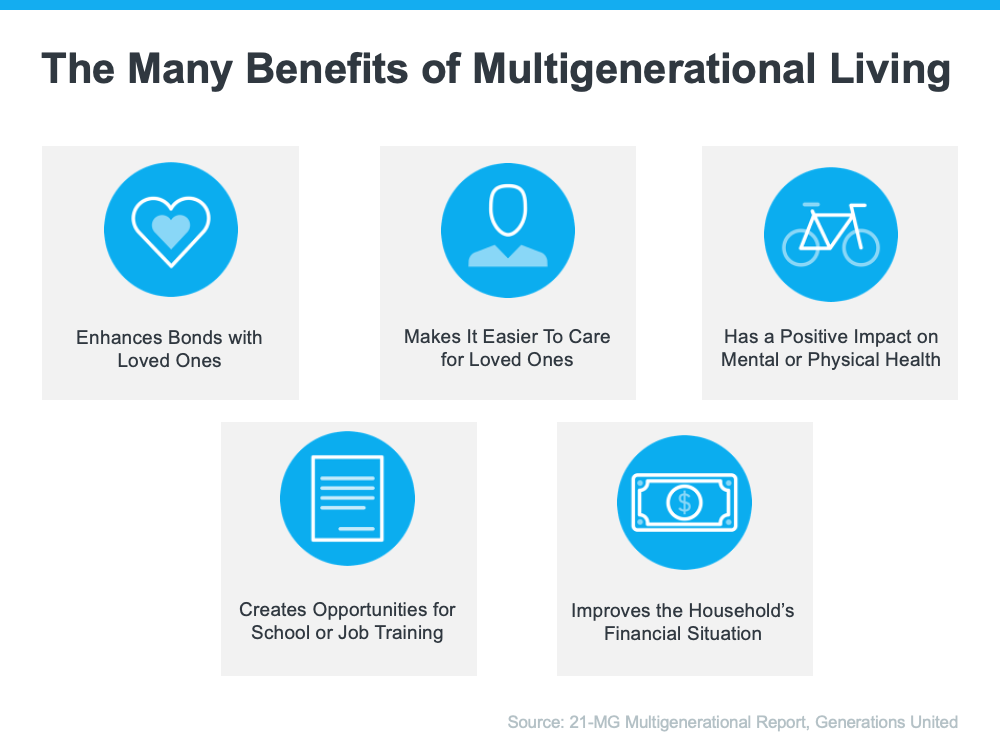 Those are just some of the reasons why most people who decide to live in this situation find it worthwhile. As Donna Butts, Executive Director at Generations United, says:
"Families may come together from need, but they are staying together by choice. Indeed, more than 7 in 10 (72 percent) of those currently living in a multigenerational household plan to continue doing so long-term."
With More Adults Living Under One Roof, You May Need More Space
If you decide to look for a multigenerational home, it's important to understand what everyone will need to make the arrangement work to its fullest. Something that often makes the top of the list for homeowners living with multiple generations is additional space for privacy. This could mean more bedrooms and bathrooms or features like an in-law suite or a basement.
If you're realizing your current house doesn't provide the room you need for multigenerational living, an expert real estate advisor can help you navigate the process to find the right home that works for you and your loved ones.
Bottom Line
Living in a multigenerational household has real and impactful benefits. If you're interested in learning more about these options in our local area, let's connect so you can find a home that fits your changing needs.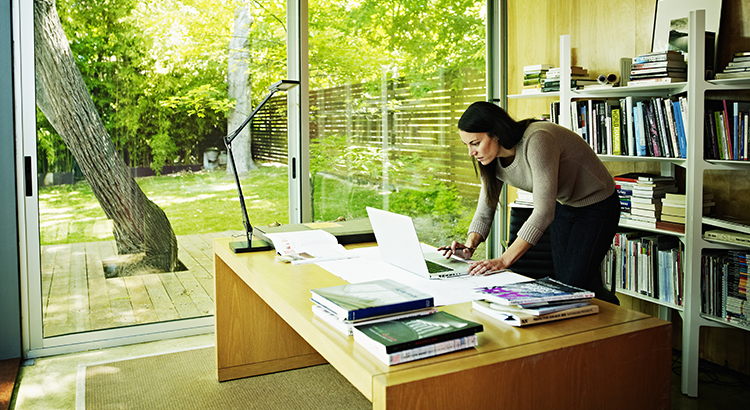 Mortgage rates have increased significantly since the beginning of the year. Each Thursday, Freddie Mac releases its Primary Mortgage Market Survey. According to the latest survey, the average 30-year fixed-rate mortgage has risen from 3.22% at the start of the year to 3.55% as of last week. This is important to note because any increase in mortgage rates changes what a purchaser can afford. To give you an idea of how rising mortgage rates impact your purchasing power, see the table below: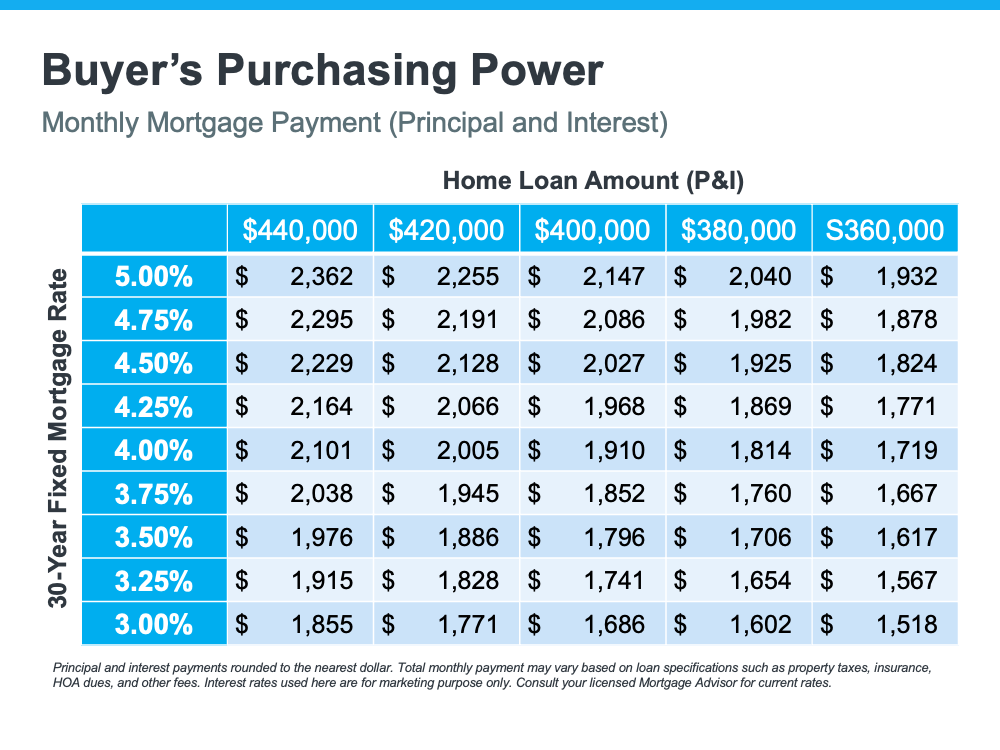 How Can You Know Where Mortgage Rates Are Headed?
While it's always difficult to know exactly where mortgage rates will go, a great indicator of where they may head is by looking at the 50-year history of the 10-year treasury yield, and then following its path. Understanding the mechanics of the treasury yield isn't as important as knowing that there's a correlation between how it moves and how mortgage rates follow. Here's a graph showing that relationship over the last 50 years: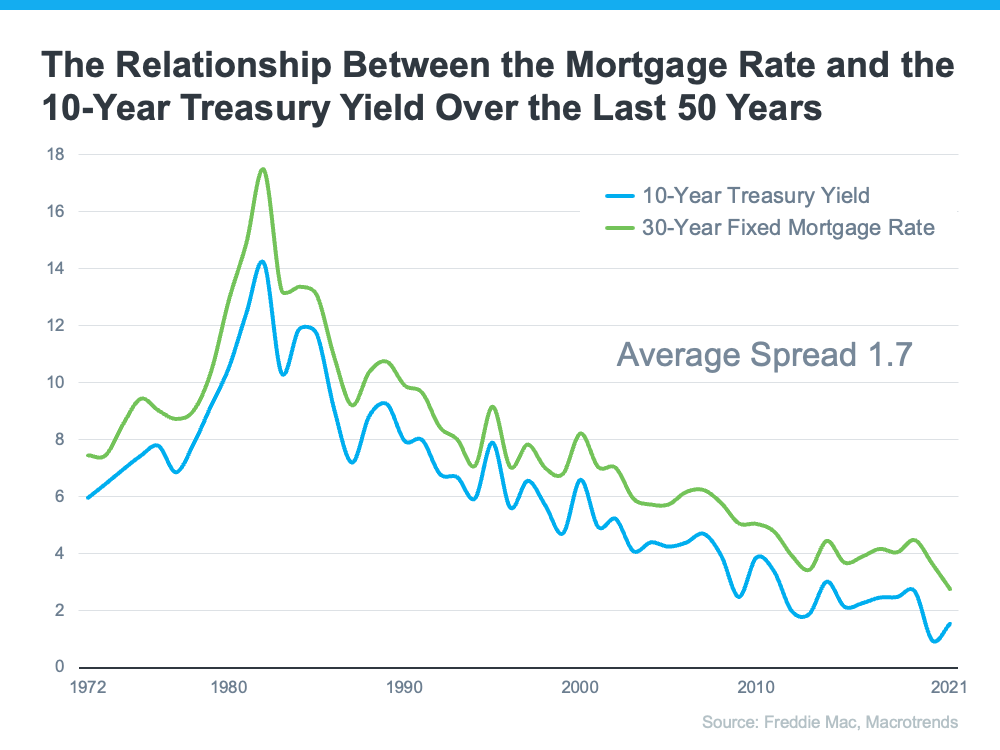 This correlation has continued into the new year. The treasury yield has started to climb, and that's driven rates up. As of last Thursday, the treasury yield was 1.81%. That's 1.74% below the mortgage rate reported the same day (3.55%) and is very close to the average spread we see between the two numbers (average spread is 1.7).
Where Will the Treasury Yield Head in the Future?
With this information in mind, a 10-year treasury-yield forecast would be a good indicator of where mortgage rates may be headed. The Wall Street Journal just surveyed a panel of over 75 academic, business, and financial economists asking them to forecast the treasury yield over the next few years. The consensus was that experts project the treasury yield will climb to 2.84% by the end of 2024. Based on the 50-year history of following this yield, that would likely put mortgage rates at about 4.5% in three years.
While the correlation between the 30-year fixed mortgage rate and the 10-year treasury yield is clear in the data shown above for the past 50 years, it shouldn't be used as an exact indicator. They're both hard to forecast, especially in this unprecedented economic time driven by a global pandemic. Yet understanding the relationship can help you get an idea of where rates may be going. It appears, based on the information we have now, that mortgage rates will continue to rise over the next few years. If that's the case, your best bet may be to purchase a home sooner rather than later, if you're able.
Bottom Line
Forecasting mortgage rates is very difficult. As Mark Fleming, Chief Economist at First American, once said:
"You know, the fallacy of economic forecasting is don't ever try and forecast interest rates and or, more specifically, if you're a real estate economist mortgage rates, because you will always invariably be wrong."
However, if you're either a first-time homebuyer or a current homeowner thinking of moving into a home that better fits your changing needs, understanding what's happening with the 10-year treasury yield and mortgage rates can help you make an informed decision on the timing of your purchase.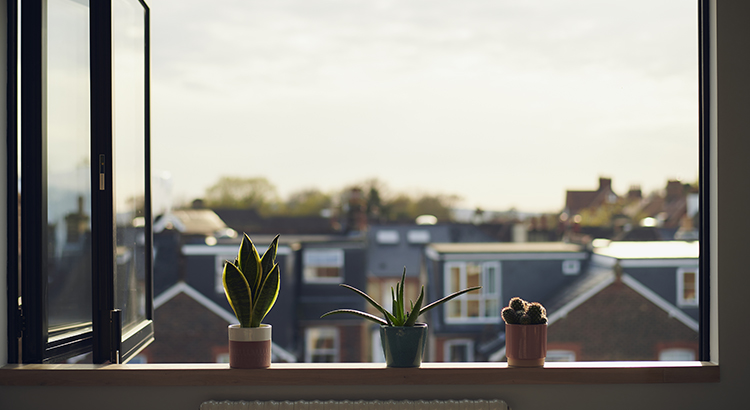 Over the past two years, we've lived through one of the most stressful periods in recent history. Because of the health crisis, many of us have spent more time at home and that's led us to re-evaluate both what we need in a house and how much we appreciate having a safe space. If you've found your current home isn't filling all your needs, you may be wondering if it's time to find a new one.
There's reason to believe a change of scenery could boost your happiness. Catherine Hartley, an Assistant Professor at New York University's Department of Psychology and co-author of a study on how new experiences impact happiness, says:
"Our results suggest that people feel happier when they have more variety in their daily routines—when they go to novel places and have a wider array of experiences."
A move could be exactly the new experience you've been looking for. If that's something you're considering to better your lifestyle, here are a few things to keep in mind.
Approach Your Decision Thoughtfully and Explore Your Options
Buying and selling a home is a major life change, and it's not a decision you should enter lightly. But, if you're questioning whether or not a move would bring you more happiness, it's important to explore if it's the right choice for you.
To find out more and discuss your options, reach out to a local real estate professional. They'll explain the process – including how to list your existing house and search for a new one – in clear and simple terms.
You should also think about your lifestyle and what you're hoping to get out of your move. What needs aren't being met in your current home? What features would bring you more joy and make your life easier? For example, are you now working remotely and need a home office? Do you crave more fresh air and open outdoor space to unwind in? Knowing the answers to these questions can help you get started and position your real estate advisor to work with you so you can find just the right home.
Consider a Location with Weather That Will Boost Your Mood
Home features aren't the only thing to consider. You should also weigh your options when it comes to location. Is the weather something that's important to you? Does it have a tendency to impact your mood? If it does, you may want to factor it into your next move. The World Population Review shares:
"What states have the best weather? When evaluating each state for temperature, rain, and sun, some states stand out. . . . Climate and weather preferences are personal and subjective. . . . "
Better weather can mean different things to different people. Some prefer the heat, others cooler temperatures, and some want to experience all four seasons. Think about what makes you feel happiest and prioritize that in your home search. If you're moving to a whole new location, your agent is a great resource with a strong network to support you along the way.
Bottom Line
Moving could provide you with a fresh beginning and the chance to find happiness in your new home. Let's connect today to talk about your goals and options in the current market.
Some Highlights
Buying a home and wondering if your inspection is necessary? While some buyers may decide to waive their inspection, it's risky decision.
Your home inspection is a crucial step in the homebuying process. It assesses the condition of the home you plan to purchase, so you can avoid costly surprises down the road.
Let's connect so you have expert advice and a trusted professional who will keep your interests top of mind.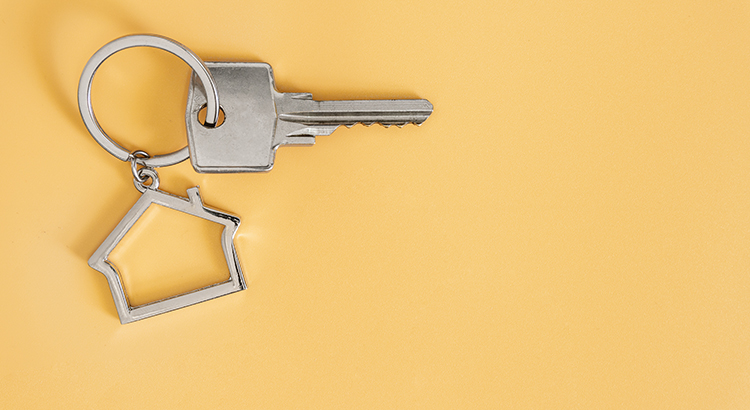 If you're thinking about selling your house in 2022, you truly have a once-in-a-lifetime opportunity at your fingertips. When selling anything, you always hope for strong demand for the item coupled with a limited supply. That maximizes your leverage when you're negotiating the sale. Home sellers are in that exact situation right now. Here's why.
Demand Is Very Strong
According to the latest Existing Home Sales Report from the National Association of Realtors (NAR), 6.18 million homes were sold in 2021. This was the largest number of home sales in 15 years. Lawrence Yun, Chief Economist for NAR, explains:
"Sales for the entire year finished strong, reaching the highest annual level since 2006. . . . With mortgage rates expected to rise in 2022, it's likely that a portion of December buyers were intent on avoiding the inevitable rate increases."
Demand isn't expected to weaken this year, either. In addition, the Mortgage Finance Forecast, published last week by the Mortgage Bankers' Association (MBA), calls for existing-home sales to reach 6.4 million homes this year.
Supply Is Very Limited
The same sales report from NAR also reveals the months' supply of inventory just hit the lowest number of the century. It notes:
"Total housing inventory at the end of December amounted to 910,000 units, down 18% from November and down 14.2% from one year ago (1.06 million). Unsold inventory sits at a 1.8-month supply at the present sales pace, down from 2.1 months in November and from 1.9 months in December 2020."
The reality is, inventory decreases every year in December. That's just how the typical seasonal trend goes in real estate. However, the following graph emphasizes how this December was lower than any other December going all the way back to 1999.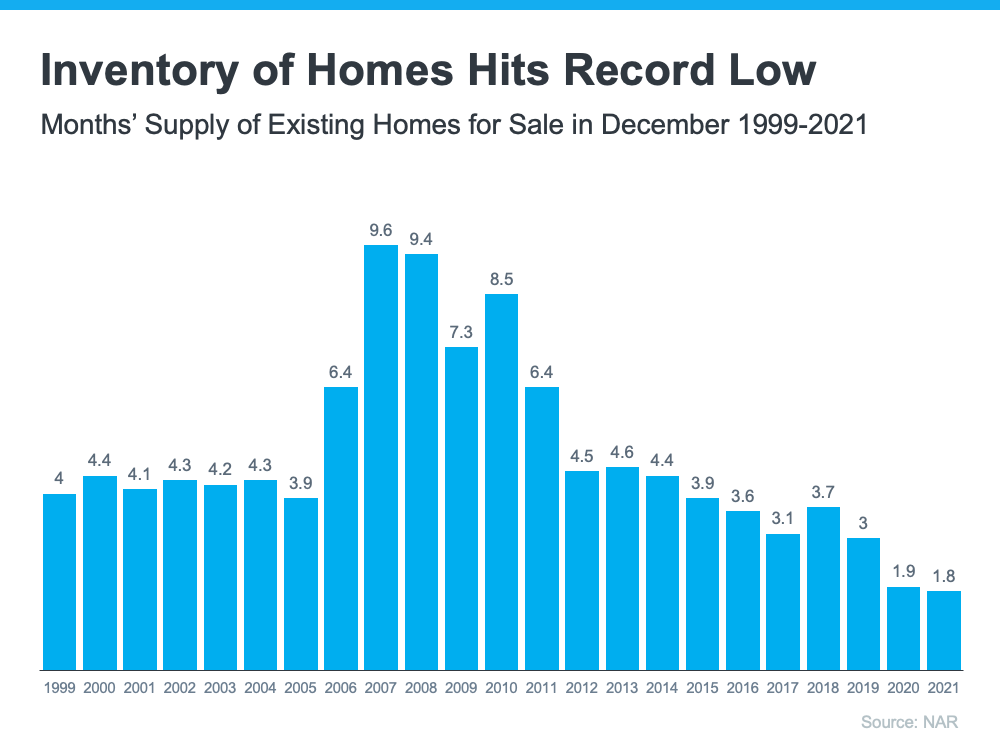 Right Now, Sellers Have Maximum Leverage
As mentioned above, when there's strong demand for an item and a limited supply of it available, the seller has maximum leverage in the negotiation. In the case of homeowners who are thinking about selling, there may never be a better time than right now. While demand is this high and inventory is this low, you'll have leverage in all aspects of the sale of your house.
Today's buyers know they need to be flexible negotiators that make very competitive offers, so here are a few areas that could tip in your favor when your house goes on the market:
Competitive sales price
Flexible closing date
Potential for a leaseback to allow you more time to find a home
Minimal offer contingencies
Bottom Line
If you're thinking of selling your house this year, now is the optimal time to list it. Let's connect to discuss how you can put your house on the market today.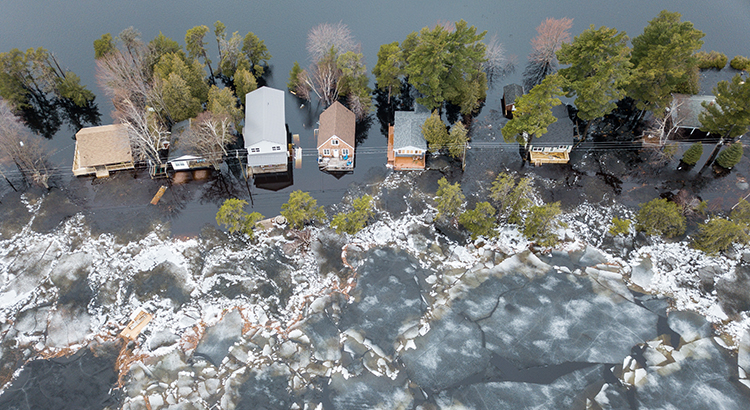 Americans are more aware than ever of the effects climate change and natural disasters can have on their homes. According to a report from realtor.com:
"More than 3 in 4 recent buyers, 78%, took [natural disasters] into account when choosing the locations of their homes, . . ."
The study also found that many existing homeowners (34%) have already considered selling their houses and moving to a new location because of the changing climate. If you're like those homeowners and are weighing your options about what to do next, here's some information to keep in mind as you begin the process of selling your existing house and searching for your new home.
Do Your Research and Work with a Real Estate Advisor To Find a Home That Meets Your Needs
As a homeowner, it's impossible to control what types of weather events your home is exposed to. As Maiclaire Bolton Smith, Senior Leader of Research and Content Strategy for CoreLogic, says:
"You can't necessarily remove the location from around you, but there are things you can do to mitigate damage that can happen."
The first step is understanding how to navigate your home sale and purchase with these specific issues in mind. While that can seem like a difficult undertaking at first, with the appropriate resources and experts on your side, you can simplify the process.
The Mortgage Reports provides some tips for purchasing your next house, including, but not limited to:
Vetting the location before you buy
Researching Climate Action Plans and learning if the city or state has one
Working with professionals for additional assessments on the home's ability to withstand natural disasters
Ultimately, your best resource throughout the process is a trusted real estate professional. An agent will help you navigate the sale and required disclosures for your existing home, be your expert advisor on local guidelines and information, and keep your goals and concerns top of mind. Even if your advisor doesn't have the answers to all your questions about how your next home will stand up to natural disasters, they can help connect you with experts and resources who will.
Bottom Line
If you're becoming more mindful about the effects of climate change and you're ready to make a move, you're not alone. Let's connect so you have a trusted advisor on your side to help you navigate the sale of your current house and find the perfect spot for your next home.